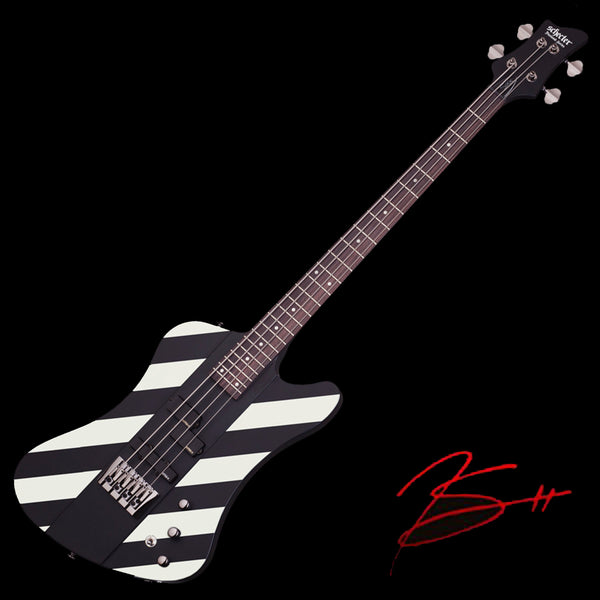 2023 - November 8 - Brisbane, Australia - Sixx Striped Throwback
What you get:
* A STAGE PLAYED Schecter Sixx Bass that will be played on for one song in the city you have chosen.
* MEET AND GREET: You and ONE guest will meet Nikki Sixx before the show. Bring your camera for photos of you and your guitar! After the show, you will pick up your guitar and take it home with you. 
* SIGNING: Nikki will sign the guitar any way you like on the back of the bass.
Note: The photo shown may not be representative of the bass you will receive.
All sales are final. No returns. 
If you will not be able to stay to see the show through to the end when the bass pickup happens, you must let us know beforehand. The Bass WILL NOT be able to be shipped to you after the show
This package does NOT include tickets to the Mötley Crüe concert. You will need to purchase tickets to the show separately.
Please keep your full day free. Check In Times can be much earlier in the day and you can not be late to check in. If you are late to check in you will miss out on the meet & greet.
This purchase does NOT include a meet and greet with the rest of the band.

All people must not be intoxicated (no alcohol or drugs) prior to or during the meet and greet. Showing up intoxicated to the Meet & Greet will end in you giving up your right to the Meet & Greet without refund.
Once your purchase is complete, you will receive an order confirmation e-mail. Closer to the show (roughly 24 to 48 hours before the show) you will be contacted directly to let you know of meet & greet check in time.
If shipping is absolutely needed, an additional fee will be charged need to be payed by you (shipping, handling, & customs fees) and the bass will not ship until all the tour gear returns to Los Angeles (which will be many months later).


---